Protection for the back of the head
A back plate is available in three versions.
Most fencers do not need one. If you practice a style that needs one - you know it. Usually two handed-sword, cut & thrust, and other free flowing combats.
One is made from 8-9 oz. oak-tanned hand stitched leather and is an additional $70.00.
Second is mild steel perforated plate formed over the skull. It is fastened to the top of the back of the mask with a slot and "J" tab hinge and has metal stops on the sides of the mask. The back of the neck is draped with a layer of 6-7oz leather. $50. No photo available at this time.
The third: A perforated stainless steel head back, made from the same steel as the mask, and a drape over the back of neck of the same brigantine material as the bib, with a slot and "J" tab hinge and metal stops is available for an additional $100.00.
Back plates may be ordered as a stand-alone item. An up-grade? Be aware that adding the back plate will require some metal work on the mask. A few holes drilled. Rivets installed, screw rivets or hand hammered rivets. If these are skills or tools you do not have available, talk to me.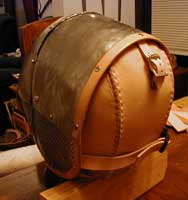 Oak-tanned hand stitched leather - $70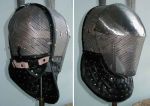 Perforated Stainless Steel Back Plate - $100